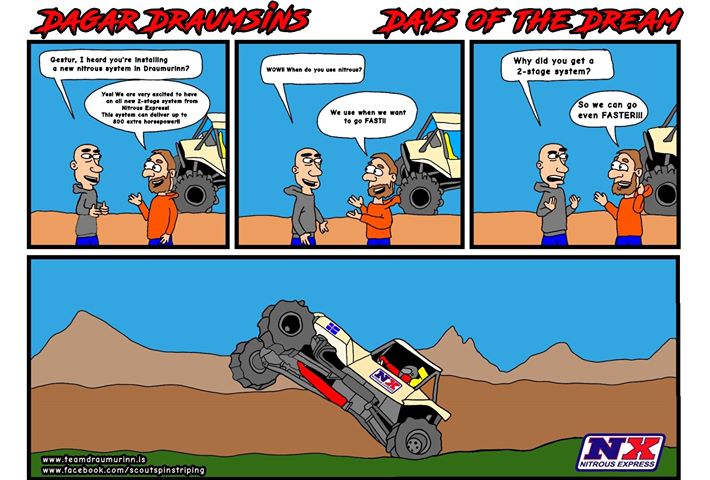 Draumurinn is an Unlimited Class competitor who is no stranger in Formula Offroad. It is hard not to notice some big changes happening in this team from Akureyri, Iceland. The guys are wearing new shirts, drinking from fancy cups and making connections all over. They are also increasing their activity on Facebook – and rumors are flying that big things are happening in the garage as well.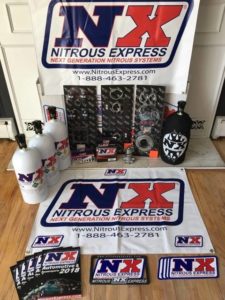 This week Draumurinn announced sponsorship from Nitrous Express, a company based in the USA that offers nitrous systems. Their products come ready to install and include everything needed. There is no reason to go to the store for a switch, a hose or a nozzle – Nitrous Express has it all under control. Not only will Draumurinn install this dual stage kit but also new bottles, brackets and even a bottle blanket so the bottle doesn't get cold. Darumurinn has not been known to be underpowered – will this 800 hp Nitrous Kit make Draumurinn too much for the competition to handle? This team will be one to watch in the 2018 season. Look for the Nitrous Express banner in the pits. If you're ready to upgrade to your own Nitrous Express kit, visit www.nitrousexpress.com and tell them the guys from Draumurinn sent you.
To learn more follow @teamdraumurinn on Facebook, Instagram & Twitter to stay informed. Don't forget to like, comment and share the monthly contests for your chance to win awesome prizes!