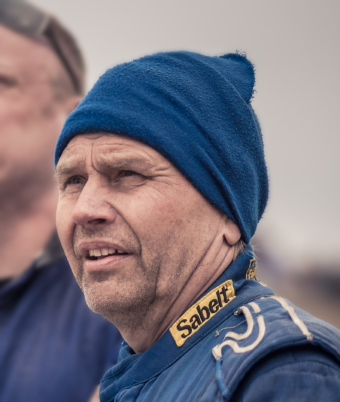 ©Lars Mårtensson
The Driver:
[ezcol_1third]
Name:
Arne Johannessen
Whereabouts:
Lørenskog
Country:
Norway
Start No:
101
Class:
Unlimited
Team:
Lightfoot Racing
Club:
Formula Offroad Norway
[/ezcol_1third] [ezcol_2third_end]Background:
"I was born in May 1958, and has always been found of 4x4s.
Started with a 1943 Ford GPW in 1980, only modifications was a 2.5 inch lift kit and Desert Dog 10×15 tires.
Bought a 1980 Jeep CJ7 with V8 and automatic trans the year after. This CJ7 was with me until 1995 and some severe modifications were made each winter. Won the unoffisial Norwegian Trial championship in 1986. Installed a Chrysler 440 engine and used it for Monster racing from 1989 until 1993. In 1994 we built the Grand Grand Cherokee; first offroad vehicle in Norway with a tubular chassis. 750 hp, 20″" inches of wheel travel and good shocks made this a winner in Monster racing. Lenghened the chassis in 1998 and fitted it with a Ford Ranger body.
In my Monster Race period I won the Nordic Championship 6 times.
Tried Formula Offroad in 1999 with my Monster with some luck.
Used most of the technic from the monster racer and put in a new chassis known today as Lightfoot. Won a few races in 2000 and came second in the Noric Championship. Have been in the top 4 ever since and won the Norwegian Champonship for the first time in 2010 and the NEZ Championship in 2011. Results came after lowering the vehicle 12 inches!!
Merits:
Norway Cup: 2010 gold, 2011 silver, 2012 silver, 2013 gold, 2014 gold, 2015 bronse, 2016 silver
Norway Championship (NM): 2013 gold, 2014 silver,
NEZ Formula Offroad Championship: 2010 silver, 2011 gold, 2012 fourth place, 2013 silver, 2014 bronse, 2015 bronse, 2016 silver[/ezcol_2third_end]
The Racecar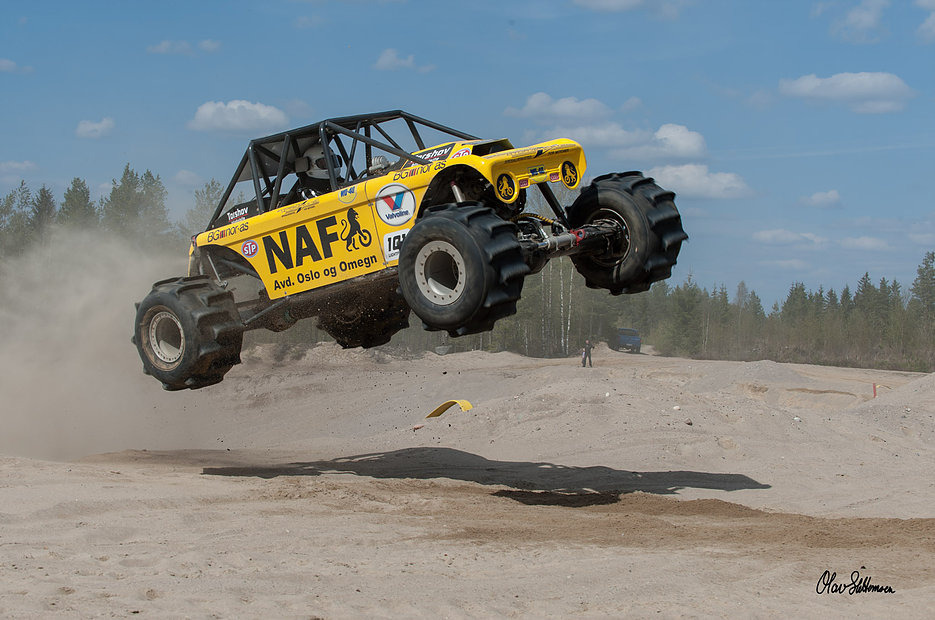 [ezcol_1third]
Engine:
Chrysler /Indy 540 cid
Engine power in HP:
830 normally aspirated
NOS:
No
Engine power with Nitro (in HP):
same
Turbo:
No
Engine power with turbo (in HP):
same
What part/parts of the engine is tuned?
Vevstake/rod, Cylinder, Kolv/piston, Ventiler/valves, Indy aluminum block and heads
Let us know how your engine is tuned?
"Started with a standard 440. Tuned it to 400 hp in 1990 and to 530 hp in 1992 still with standard block and steel heads.
In 1995 we got a great sponsorhip from Kärcher and was able to buy a complete engine from Koffels Place. Chrysler 400 block, B1BS heads, 511 cid and 695 lbs/ft torque. A great engine and we kept it running for over 10 years with no modifications.
Changed to slightly ported Indy 440-1 heads and intake in 2006 and tried a Holley fuel injectiion with some luck. Had to change the block and bought an Indy 540 4aluminum shortblock,
Eagle 4.250 crank, Eagle H-beam rods and Ross flattop pistons. Still runnning the camchaft Dave Koffel made for me in 1995; but later changed to J&D 1.6 rocker arms.[/ezcol_1third] [ezcol_1third]Torque (nm):
795 lbs/ft
Transmission:
TF 727
Transfercase:
NP 205
Chassis:
Tubular chassis
How many meters of tube are your tubular frame made of?
Approx 60
What kind of tubes have you used?
Mild steel – 370 Nm
The tube dimensions in mm (diameter x thickness):
48.3 x 2.6 and 3.2 in main bars
Car body:
Ford Bronco 1966 slightly modified[/ezcol_1third] [ezcol_1third_end]Suspension:
Race Runner airshox 12″ front and 14″ rear
Front axles:
Hybrid
If your front axle is a hybrid, tell us how?
"9"" centre with Moser aluminum housing, steel spool and 4.11 gears.
Yukon 35 splines inner and outer axles, Yukon u-joints.
Large axle tubes (168mm), spindles and hubs from Dana 50 TTB otherwise everything inkluding uprights has been made of steel by ""Doffen"""
Rear axles:
Hybrid
If your rear axle is a hybrid, tell us how?
9″ centre with Yukon aluminum housing, steel spool and 4.11 pro gears with big pinion. 35 spline 300M driveshafts. Large axle tubes (168mm), spindles and hubs from Dana 50 TTB otherwise everything has been made of steel by "Doffen"
Tires – Front:
Bigger Digger
Tires – Rear:
Super Scooper[/ezcol_1third_end]