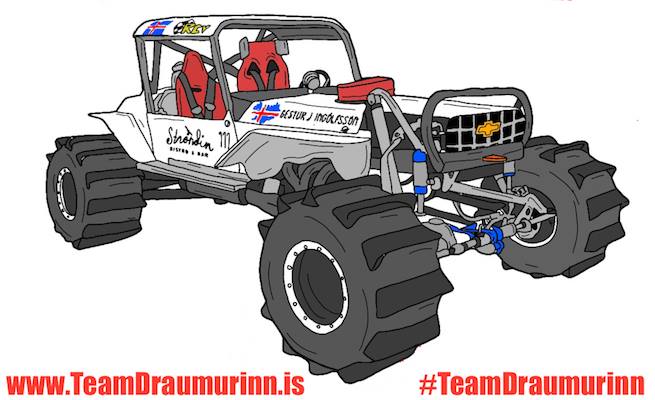 [ezcol_3fifth]
A DREAM COME TRUE! There are several things happening in a small garage in Akureryi these days. It is not difficult to notice the activity on Facebook and Instagram from the Draumurinn Formula Offroad Team. They have been giving away prizes each month and it seems to be nice stuff! They are having a lot of fun these days, and the best times are yet to come when The Dream hits the track at Hella.
Some of this positive energy is just the personalities involved. Like many teams in this extreme motorsport, the crew members are more like family than friends. Most of the time not everyone is available to get together at once, but the communication and team spirit never leave them. They are always discussing what needs to happen and how to get the Dream Machine ready for the best season yet.
One issue that creates a challenge for every team is removing the large tires from the rims. Most use a beadlock on the outside but the inside bead can be very difficult to loosen and consume lots of time. Hours have been lost to this battle, and often it takes many cursing men to do this task.
Thanks to Draumurinn sponsor BeadBuster, the dream has come true. An amazing tool that makes this now simple job for the team, and for one man in only a few minutes. The team considers this tool now one of the most valuable tools in the toolbox.
Watch the attached videos
In the english language version this tire was not glued to the rim but it has been mounted for many months.
In the Icelandic language video the tool is show on a tire that was glued to the rim. It takes a few more minutes but still a simple job for one man and one amazing tool.
[/ezcol_3fifth] [ezcol_2fifth_end]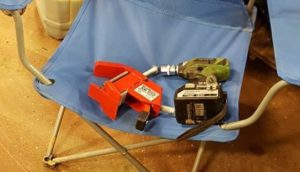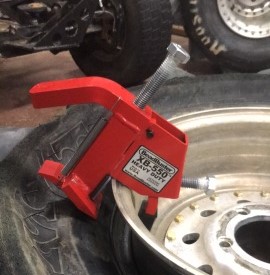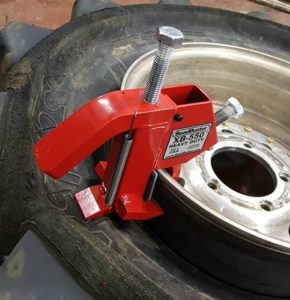 English version

Icelandic version
[/ezcol_2fifth_end]
---
For information about how to get a BeadBuster 550 HD for your team contact Team Draumurinn through Facebook @teamdraumurinn
Have you something you want to tell all fans? Contact us