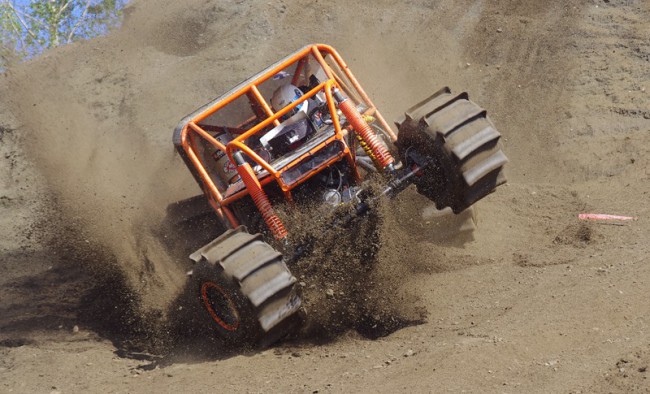 Round 3 and 4 of the Norway Cup in Formula Offroad was settled
Round 3 and 4 of the Norway Cup in Formula Offroad was settled this weekend, Utkanten Offroaders NAF was the organizer and offered audience and drivers on a very good race. The competition was decided in a gravel pit in Ler, south of Trondheim. 11 drivers from Norway and Finland came to start.
The weather varied a lot during the race both days and it came both rain and sun. Despite this came about 700 people each day and watched the race. Utkanten Offroaders NAF is very pleased with this.
In the Unlimited class, there were, among others, a driver who had a little more bad luck than the others.
Arne Johannessen says: – There were seven contestants in the Unlimited class. In this way, I was not very satisfied with a 5th place, but I jumped 25 meters with the car and got the price for it. Arne had engine problems on Saturday and a broken driveshaft on Sunday in addition a tire came off the rim and had a couple of rollovers during the race.
A really good track quality
Race leader Michal Johnsen says: – The drivers were very pleased with the tracks. The biggest challenge for us was to make tracks sufficiently tough. The quality of tracks led to spectacular driving the drivers gave us.
See some videos from the  race:
watch on YOUTUBE
Result List
You can see the cup results here
Modified, Saturday:
1. Jørgen Poulsen
2. Roger Fossen
3. Sigurjon Gudmarsson
4. Christian Jensen
Modified, Sunday:
1. Jørgen Poulsen
2. Roger Fossen
3. Christian Jensen
4. Sigurjon Gudmarsson
Unlimited, Saturday:
1. Martin Michaelsen
2. Tommi Löytynoja
3. Tor-Egil Thorland
4. Kjell Magne Rimstad
Unlimited, Sunday:
1. Pål Belsvik
2. Tor-Egil Thorland
3. Tommi Löytynoja
4. Martin Michaelsen