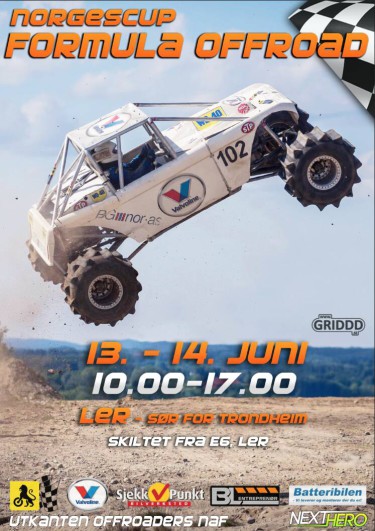 [ezcol_2third]
13th and 14th June arranges Utkanten offroaders NAF Formula Offroad – Norgescup round # 3 and # 4 in Ler, south from Trondheim.
There are many skilled drivers coming to race in Ler. So all the drivers will give everything to be at the top of the podium when the race is over.   In addition to the price for the first, second and third prize in each class, there will also be awarded prize for Best in Show.
Organizers of NC1 and 2 on Matrand set the standard for how Formula offroad races will be held in 2015 season.
They had happy officials, skilled car salvors and trackbuilders who took the job seriously. Now it's up to us in Trondheim to make an equally good job, so that everyone will have an equally amazing weekend in Trondheim.
Utkanten Offroaders have planned for a long time to show us what they can achieve in Trondheim. First and foremost, they want to inform us that they have been fortunate to obtain the world guaranteed best Formula offroad speaker; Tommy Olsen (to the left in the picture). No one can comment a race like him. Tommy knows all drivers and cars in and out, he is the only speaker that has totally full control of achieved points and you can not find better timekeeper than him during the time track. In this way, Tommy to give fans and drivers a fantastic experience.
Well met at Ler 13th and 14th June!
[/ezcol_2third] [ezcol_1third_end]
Preliminary start list:
Modified:
Christian Jensen
Jørgen Paulsen
Roger Fossen
Sigurjon Gudmarsson
Unlimited:
Arne Johannessen
Joakim Knudsen
Kjell Magne Rimstad
Martin Michaelsen
Pål Blesvik
Rolf Keiser
Tommi Löytynoja
Tom Egil Bårnes
Tor-Egil Thorland
The competition start at 11.00 (local time)
Admission per day:
Children under 12 years: Free
12-16 years old: NOK 100, –
Adults: NOK 150, –
[/ezcol_1third_end]